DEEP SHIT 8:
todays shit is not particularly deep. just LAZY. zipadeedoodahday
today's lazy post....zzzzz even typing this i feel tired already.
OH OH MY FINGERS OH ME OH MINE!!!! AAHHHH!!!!
*collapse drop dead on the floor*
what do u want from me? DO I LOOK LIKE SOME KINDA CLOWN TO YOU??? WHAT WHAT ?????
so again today's post....is a very heartfelt..... very very deep heartfelt tribute to one of my most revered musicians which i feel was....such a waste, to die. IF HE LIVED NOW I TELL YOU HE'D BE A LEGEND OKAY? no no i'm not talking about me i'm not that great a musician. not THATT great la. alright la. not bad can make it.
guy in the corner " you suck la"
HEY HEY HEY i talking to u isit? here here take this gun and do something useful with it.
anyway... the guitar God, the Modern Mozart, Musical einstein, myyy heeerroooooo
Jeff buckley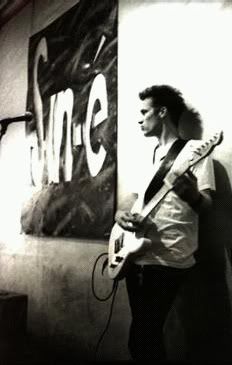 so this song ur hearing(i hope u can) is one of his own. actually no its one of bob marley's song but jeff's version is like only 100 times nicer? everytime i hear that song it just......wooo gives me the goose bumps. oh btw its me singing it, yah i know can't compare to jeff i know. but it just feels like heaven doing one of his songs.
guy in corner "you sing like shit la"
excuse me ppl :) i need to take care of something
*goes to corner.....POW! KARATE CHOP! SPINNING HEEL KICK! TAKE THAT SUCKER! JUDO CHOP JUDO CHOP!*
:) sorry about that.
crap see la now i forget what i was saying......so anyway. jeff died by drowning at the age of 31. yah i know....how sad right? if he lived another few more years and did a few more songs i tell you.....this world will be a better place man seriously. like i'd be playing jeff's songs ALL DAY. but 31.....kao eh....sadded.
i think the more talented you are the earlier u die. like mozart and jeff and Jesus(okay the last one is based on opinion). if thats the case....wah....i only have a few years left
CHEY CHEY LIKE MACHAM U DAMN TALENTED LIKE THAT.
*looks at distraught guy in corner*
anything to say???
guy in corner "aaaaaaaaahhhhhh moan moan moan"
thats what i thought.
Satisfied Mind
How many times have you heard someone say
If I had money, I'd do things my way,
But little they know that it's so hard to find
One rich man in ten with a satisfied mind.
Money can't buy back your youth when you're old
A friend, when you're lonely, or peace to your soul.
The wealthiest person is a pauper at times
Compared to the man with a satisfied mind.
When my life is over and my time has run out.
My friends and my loved ones, I'll leave them no doubt.
But, one thing's for certain, when it comes my time
I'll leave this old world with a satisfied mind.
One thing's for certain, when it comes my time
I'll leave this old world with a satisfied mind.
Satisfied mind
lazy bloggers rule.
yours lazily
Norman The Great!